Knitwear is even more important in the prêt-à-porter collections, from the most traditional brands to the most innovative ones, no more as an accessory, but as the essential element, supported by its values of practicality, comfort and innovation.
Of great interest is the availability of yarns that the Italian spinning mills have developed in tune with the requests of consumers who are even more sensible to the sustainability, to the quality, to the pleasant touch, to the attention of yarns which assure wellbeing and health.
Remarkable is the research of aspects, handles, alternative weights, from the finest yarns to the most voluminous fancy yarns that combine different fibres to give the sweaters further special features.
The presence of the viscose yarns in winter collections is already known by the consumers.
The fibre, born in the early 1900 from the transformation of the vegetal cellulose, mainly widespread for its silky aspect, is today available in various developments: bamboo viscose, from eucalyptus (Lyocell), from beech (Modal), from corn, orange, nettle….
The breathability and the moisture management of these yarns prevent the development of bacteria, of dust mite and viscose can be classified as a hypoallergenic fibre, perfect also for underwear.
Also, ultrafine merino wool is spun in very fine counts for light sweaters alternating compact textures, geometric jacquards with precious transparencies.
Micro and macro fancy aspects enhance the plainest textures and the classical shapes. Yarns that are even more oriented towards the use of natural recycled fibres or in any case respectful of the environment and of the animals.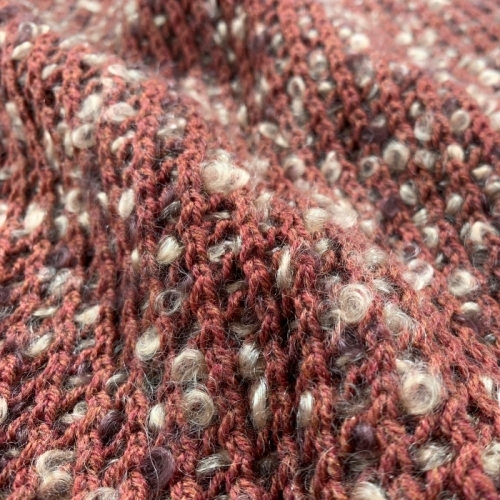 The bouclé yarn gets macro volume blending wool and silk with a supersoft and warm mohair.
Mohair, the warmest material that is recognized by its shine and the regularity of the fibres, resistant and elastic, is enhanced in blends with wool, expressing the richness of its dyes, well embedded in the fibre.
Polychrome moulinés and printed graded effects are the most relevant aspects for the new winter season.