One of the designers of the latest Feel the Contest tells us about her projects and 3D Software.
Where did your passion for yarns and knitwear come from? 
I started hand knitting when i was 5 years old with my grandmother. When the weather was bad we used to spend our afternoons knitting and crocheting for my dolls or my dogs; I made a lot of scarfs for my dogs ! During the academic years I took two courses of knitwear design and I better discovered the incredible world of knitwear.
I fell in love with yarns, stitches and the things that I can do with knitting machines. Then, during my third year of university I got an internship for a knitwear company near my hometown, it was absolutely amazing. I learnt a lot of stuff about the fashion industry during the internship period, I saw how the knitwear production works and how many people there are behind a knitted sweater, from spinners to designer to programmers and knitters, expert in dying and ironing.
After this experience I understood that this is where I belong. I am now doing everything I can to actualise my passion into a career.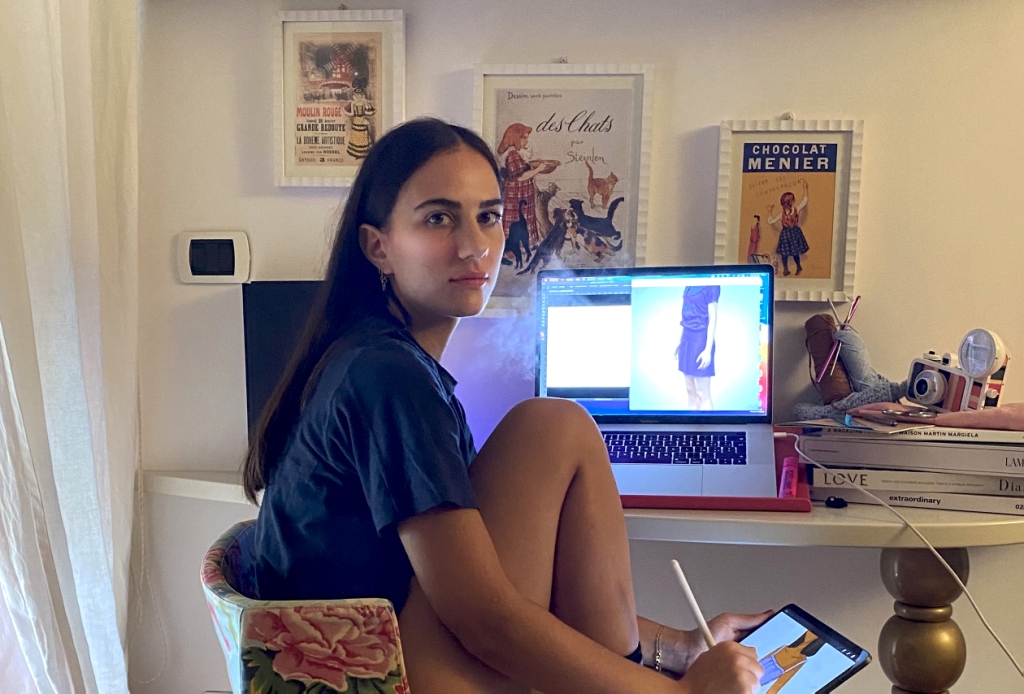 Where do you find inspiration for your work and what are the models you refer to?
I often find inspiration from my friends, magazines, Instagram and the things around me. I usually take photos of my friends or moments that give me inspiration, which I then use in my mood board and to initiate research. I want my projects to be wearable and actual, that's why I like to continuously observe my environment and what surrounds me.
In my mind I always have the clean lines and fine details of Miuccia Prada, I love her style and innovation; she is my role model.
Once I feel inspired I enjoy taking in all the variable that led to said inspiration and add my own unique style to them.
My favourite part about the creative process is researching, as this is where I begin to see the pieces move into fruition. Through experimenting and the utilisation of materials, accessories, and techniques, I am able to get a clearer image of where my inspiration will lead.
When you think about a knitting project, what influences you the most in the choice of materials? For example the color, the softness, the type (wool, cotton, linen…), the sustainability.
Whenever I initiate a project, whether it be for knitwear or another fashion piece, the first thought that comes to mind is sustainability. Starting from my childhood to today my lifestyle has always surrounded a healthy, sustainable mindset of living.
For me, this lifestyle is not a trend but rather a part of my persona and consequently of my projects. When I started studying fashion design, my first thought was to create a sustainable brand that pushed limits on designer fashion in order to make a change. I always ask for end of stock materials and samples in order to do not produce more materials. I have recently started utilising 3D programming to create prototypes in order to avoid creating excess yarn, and material waste.
Then according to the style and the effect I want to achieve I decide the yarns I have to use; if the collection is for spring/summer I chose cotton, linen or others light fibres, for winter I use wool and warmer fibres.
The fiber I enjoy working with the most is wool, I like the elasticity and the texture. In this moment I am into mohair and velvet looking yarns, they give me a sense of fluffiness and coziness that is incredibly comforting during the seasonal changes.
Lately you have made some augmented reality projects in which you can see your drawings "move". How much do you think 3D software can help a stylist in the creative phase and in the realization of the production of a garment? 
I started using a 3D Design Software a few months ago because I wanted to create some zero waste patterns for the company I was working for. I thought that making the pattern on paper and creating other prototypes would produced unnecessary waste, so I decide to download the software and create the collection.
It is really useful, as I previously mentioned for reducing waste materials but also it helps to visualise the finished garment: how it looks in fitting, how a print turns out in various materials, for the styling of the collection and also for color swatches and to organise the collection.
In the drawing I made I used different yarns, and was able to modify the material propriety in order to see the difference between various thickness, fibers and elasticity.
It is really enjoyable working in 3D, not only from a production point of view but also artistically speaking. When you are done with the garment you can start making graphic motion and photo imagining with the ability to create a real photo shoot, cat walk or performance.
What are your next steps and what advice would you give to those who want to take your path?
I graduated last September, so I am really fresh to the fashion world but, I am ready to have numerous experiences in this industry, hopefully with the chance to work with various, innovative brands. I am excited to gain a better understanding of back of house fashion, the timing of projects, and to grow overall as a fashion designer.
Currently I am continuing to improve my 3D design experience, and knitting knowledge while looking for new fashion opportunities. A personal goal of mine is to start my own "project".  I have already worked on two fantastic projects during my work experience, one in knitwear and another one focused on upcycling and sustainability, but I feel I need more knowledge in order to make my wishes come true.
I don't know if I am the right person to give advice, but I can say to stay focused, never stop creating or learning new fashion skills, stay curious, and most importantly never lose heart.