This is Raquel's story: the winner of the last Feel the Contest 2021 dedicated to new designers.
Where did your passion for knitting come from?
Before moving to London, I lived in Sao Paulo and I was studying fashion design at my university when I was one of the students  selected  worldwide to take part in the textiles training provided by Feel the yarn . It was my first time in Italy and I had the chance to visit the best textiles companies and spinners and learn about the knitting process from the very beginning.
As part of the competition, Industria Italiana di Filati provided me with beautiful yarns and that was my first experience creating something knitted. I felt so inspired by everything I saw at Pitti Filati  and  this opened up a whole new world of possibilities. I got a domestic knitwear machine and started to experiment with different yarns and materials  and I was very determined to challenge the  concept of what we know from knitwear exploring new textures  and transparency.
Where do you find the inspiration for your work?
My practice in knitwear consists of experimentation with fine gauge yarns and mix of textures through intarsia , exploring the body, lace and transparencies  that challenge the traditional  knitwear. People usually think about knitwear as something casual , to keep us warm and cover-up but  for me , knitwear can be glamorous and sexy and I want  to bring this  sexiness, power and  luxuryness to my pieces and flatter the body of  whoever wears them.  Keeping sustainability at heart, I like to merge hands-on crafts with technology.
In a world where people treat clothes as something disposable, there is some fragility in knitwear and I love that feeling of cherishing and taking care of  our garments as if they were treasure. Everytime I am creating something, I always think about how special it must look so the people who will wear it can feel the same, that is what inspires me.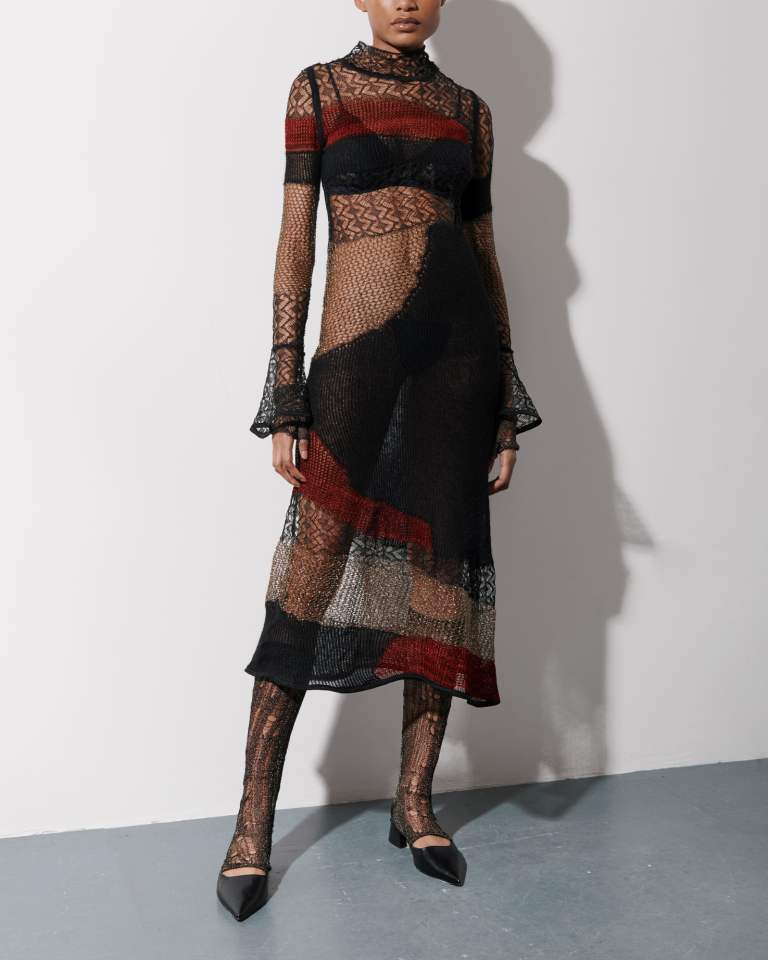 How do you select the yarns for your creations? What influences you most in the choice of yarns for your creations? (Ex. wool, cotton, linen, or colours, softness…)
Yarns play an important role during my design process, everything starts from them.
I am obsessed with metallic, shiny yarns and thin yarns and  I love to mix different textures and features. More and more, I am trying to make  well informed decisions in every step of the design process and this includes the moment to choose the yarns.
I am committed  to being responsible while choosing my materials , prioritizing options with lower impact on the environment and with certificates such as Global Recycled Standard, Livaeco, RAF , Chemical Management 4sustainability® etc… Fortunately , nowadays we have many good options in the market and this helps us to find the best balance between fashion, people and the environment but there is still a long way to go.
What did winning the Feel the Contest 2021 mean to you?
I am from Brazil and I am really far from home so when you move to a different country, things might take a bit time to happen as you wish.Having the chance to start my brand with the  support from Feel the Yarn and have the chance to work with  the most incredible people and companies in Italy  is something that I feel really grateful for.
It wasn't easy  to take part in this competition during such hard times in the world. I think every young designer  had to be resilient and probably at some point, ended up questioning themselves about their mission in fashion and all the changes in the industry  that are happening now. Creating this capsule collection during lockdown in London was fundamental to keep me inspired and  motivated about the future. It happened through an intense process of  self-awareness that reflects on who I am as a designer and the things I care about.
I put all my effort and passion into it and I am super happy that I was able to go to Pitti Filati and came out as the winner.  I am so thankful for having the opportunity to create with the incredible yarns from Isy Torcitura di Domaso and for everyone who worked with me on this project and encouraged me to keep going.