The autumn-winter 21-22 season will  respond to the difficult times we are experiencing with renewed energy, looking for new expressions and daring innovative knitwear solutions, evoking textile arts.
Fashion is more and more interested in intriguing solutions, where knits look like wovens and wovens are comfortable and soft as knits. Warp knitting is one of the proposals, daring this ambiguity.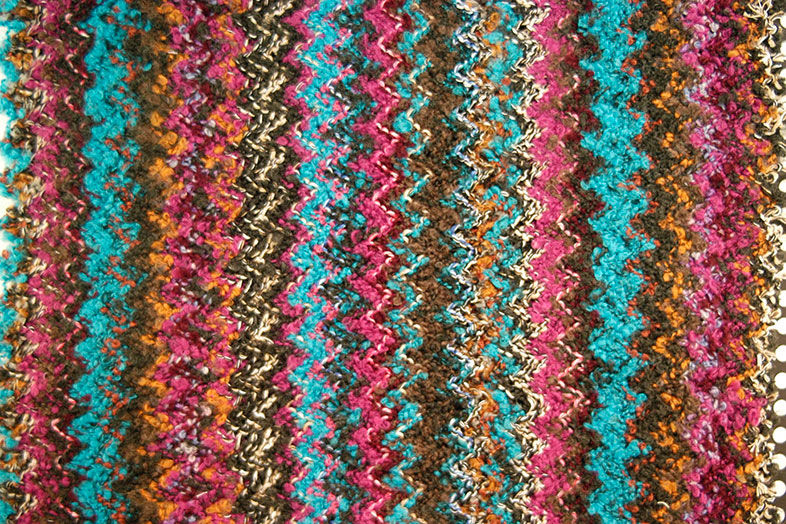 The original combination of knitted stitches and woven effects reminds us of traditional textures realized with unique machines, dated back to 60 years and revitalized by Forza Giovane, specialized in the restoring of traditional machines to the most sophisticated ones.
The aim is to create products in which yarns of different thickness, variegated colours and original fancy aspects coexist, animated by mechanical movements, creating every time different designs, experimenting loose and compact consistency, playing with lightness or bulkiness.
Colours have also an important role, enhanced by a great variety of combinations, implemented by contrasts, stimulated by the beauty of imperfections.  Interesting is the possibility to use recycled wovens, out of sale fabrics that are cut in ribbons and bands  and mixed in the most varied motifs and patterns.
The creativity opens new directions, experimenting the combination of yarns of extreme diversity, introducing variegated shades, blending traditional procedures and technology.  Unexpected blurred effects can be obtained  for instance  by carding  the knitted surface, using the original vegetal cardoons, creating graded effects, diluting the patterns and adding a sense of great lightness and warmth.
Looking back, taking inspiration by artisanal knowhow and projecting this knowledge into the future creates complementary proposals to the classic tricot, enhanced by the constant commitment of Forza Giovane that gives continuity and value to the handcrafted textures of quality. www.forzagiovane.it Ornella Bignami | Elementi Moda, Milano www.elementimoda.it