Questa è la storia di Camilla, la designer vincitrice del "Feel the Contest 2019". Ci racconta della sua ultima sfilata e della sua passione per i filati e la maglieria.
Racconta del tuo progetto e della sfilata che si è tenuta il 2 settembre, cosa ti ha ispirata?
La collezione è ispirata al rapporto che la donna ha con se stessa e la natura.
Nei rituali sacri rivolti agli spiriti/dei la donna aveva come scopo il dono, ringraziamento e celebrazione di madre natura con le sue doti creative.
La bellezza della natura viene ripresa in tutte le tribù indigene ma anche nel mondo greco con varie dee come Afrodite e Demetra.
Durante la serata di venerdì 2 settembre ho voluto ricreare un'atmosfera di magia attraverso una coreografia creata da me con ballerine che introducevano attraverso il movimento un rito in cui si evocava delle dee/ donne che sfilavano indossando capi interamente creati a ma­glia con gioielli ad uncinetto coloratissimi.
Per la realizzazione della collezione ho usato solo fili recuperati da scarti di produzione del maglificio Matteo Pieracci, e ho coinvolto molte donne per il lavoro a mano tra cui io stessa.
Mi piace l'idea di creare abiti che emozionino ma che nello stesso tempo siano portabili e che diano alla donna una propria personalità.
Da dove nasce la tua passione per il lavoro a maglia e quali sono i tuoi brand di riferimento?
La mia passione per il lavoro a maglia nasce al Polimoda nel 2019 proprio quando ho vinto il concorso FEEL THE YARN. Mi piace l'idea di creare un capo dalla sua essenza, ovvero il filato: puoi creare qualsiasi tipo di trama e colore mischiando insieme tantissimi tipi di filato e fantasia. Mi piace sfidarmi davanti la macchina manuale sperimentando tutte le idee e i vari metodi di realizzazione. Per me è una sorta di forma artistica come un pennello che disegna sulla tela. Non ho un brand specifico di riferimento perché ho sempre avuto l'idea di non far­mi influenzare dall'esterno ma di avere sempre un'identità mia per realizzare in futuro il mio brand che dovrà essere unico nel suo genere.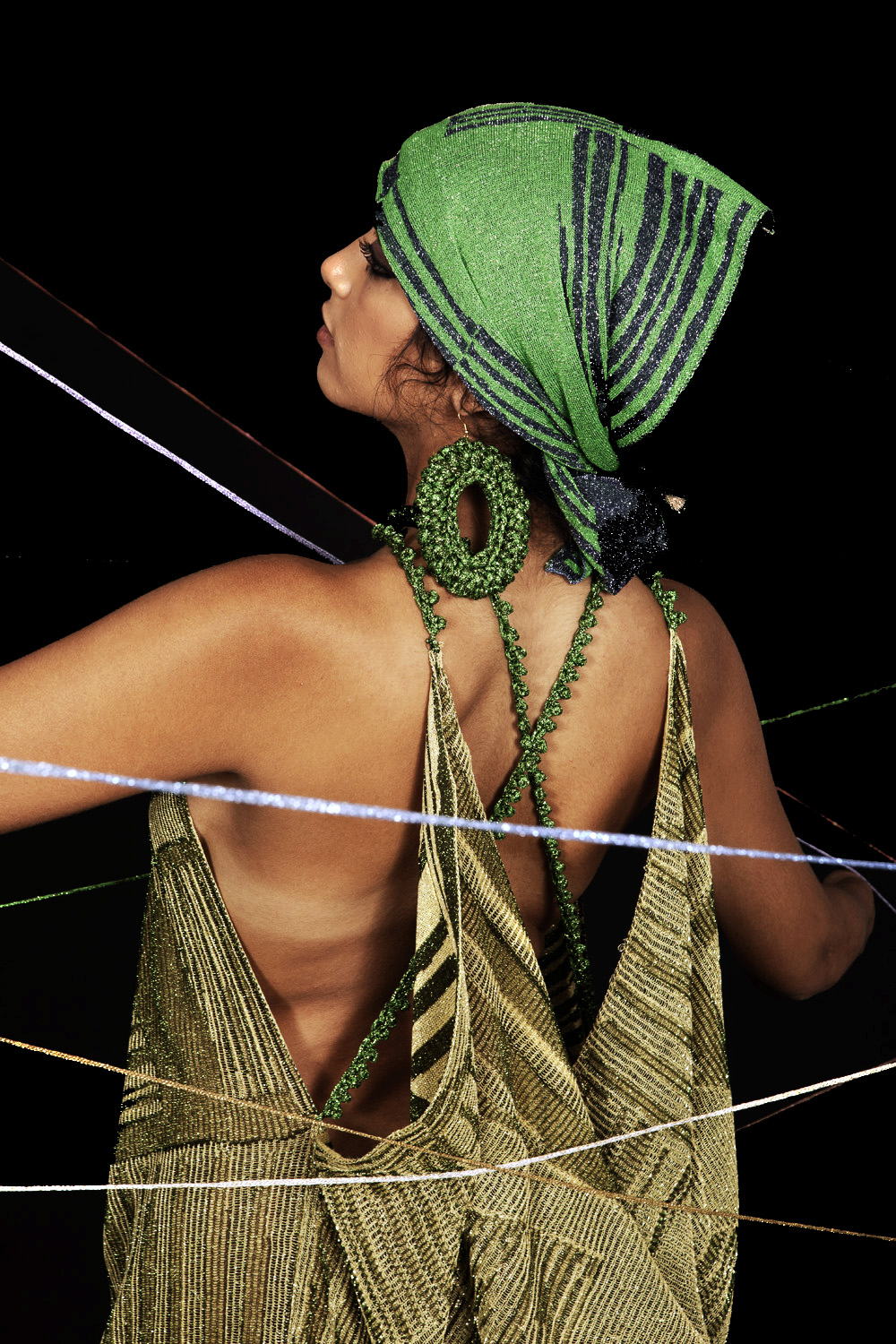 Come selezioni i filati per le tue creazioni? Cosa ti influenza maggiormente? (Es. lana, cotone, lino, o colori, morbidezza…)
Di solito nelle mie collezioni scelgo filati che mi trasmettono già in partenza una determinata sensazione che sia inerente al tema della collezione per dare un effetto finale unico. Mi colpi­scono filati strani e particolari che mi stimolino un'idea nuova e creativa che trasmetta una ricerca.
Cosa ha significato per te vincere il concorso nel 2019, proprio per la celebrazione del decimo anniversario?
Quando ho disegnato i capi per il concorso FEEL THE YARN l'idea è nata dal contrasto tra natura e tecnologia.
Vincere il concorso, solo al secondo anno di studi, ha significato aver trovato la strada e il modo giusto per far arrivare alle persone ciò che avevo da dire. Per me è molto importante esprimermi in modo artistico. Arrivo dal mondo della danza in cui attraverso il corpo e il movimento si riesce a donare un'emozione a chi ti guarda e riuscire a trovare un'altra forma di "arte" che ti permette di fare questo è semplicemente unico.
Purtroppo viviamo un in una società che ci ha omologato e si è persa l'idea del diverso che per quanto mi riguarda è una tematica fondamentale di ciò che sono.