When anxiety and fears for the future accompany our daily life, knitwear represents more than ever the refuge item, able to warm up, to cocoon and to protect, creating an encouraging and comfortable ambience.
For Autumn-Winter 2021.22 knits offer a variety of interesting developments, mainly by using carded yarns. Among them all the wet finished, felted and needle punched materials that join the compact texture with a warm feel, still remaining soft and light.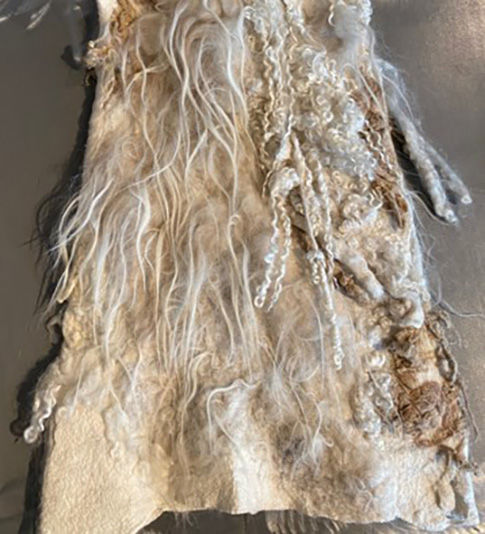 Through the combination of needle punching and intensive felting we mix fibres and rowing yarns for new marled aspects. We can also creatively introduce real animal fleece with an astonishing crafted natural effect. Felted accessories complete the proposal.
The combination of different finishing processes opens to raised "Casentino" aspects beautifully combined with perfectly flat compact surfaces for collars or details in precious wool-cashmere yarns. It can also play with double-sided textures to enable tonal or contrasting colour combinations or the mix of thin and thick yarns to balance touch and weight.
A casual look is obtained by boiling a double texture in classic extrafine merino wool. A camouflage look is added with the speckled knit or by wet boiling various yarn qualities in a mixed jacquard.
Felting, wet finishing, boiling processes are a simple but effective way to modify the density, the touch, the comfort of knitted qualities to adapt them for raw cut items, for innovative volumes and for maximum protection and comfort.
Concept and photo by Elementi Moda